Jarome "The Hatchet" Hatch Knocks Out Marko Martinjak at BYB 16 Desert Brawl in Dubai to win the Police Gazette World Diamond Belt
BYB 16 was the first-ever bare knuckle boxing event held in the Gulf Region and featured fighters from 12 nations.
March 19, Dubai, UAE – On Saturday, March 18, BYB made history in Dubai when it hosted the first-ever bare knuckle boxing event in the Gulf Region at the Dubai Duty Free Tennis Stadium with a card that featured athletes from 12 nations and saw a new Police Gazette World Diamond Belt champion crowned in Jarome "The Hatchet" Hatch.  
Said BYB CEO Gregory Bloom, "BYB 16 has been a great success, and we are proud to have been the first bare knuckle organization to bring our sport to the UAE. We want to thank the Dubai Sports Council for allowing us this opportunity, as well as our partners CoreSports and BKB for helping us to make this event possible. Finally, a special thank you to the amazing brawlers from across the world who stepped in to the mighty Trigon and put on an amazing show."
After being knocked down twice, Jarome "The Hatchet" Hatch (USA) landed a vicious knockout blow to defeat "Marvelous" Marko Martinjak (Croatia) for the Police Gazette World Diamond Belt.
Will "The Kill" Chope (USA), a veteran of 134 professional fights who took the fight on 6 days notice, overwhelmed Szymon "Shrek" Szynkiewicz (Poland – BKB) with a second round TKO.
In his bare knuckle debut, former UFC star Rashad "Daywalker" Coulter (USA) defeated Quentin "Ruskov" Domingoes (Portugal, BKB) in what lead to heated words and confrontation after the fight, and each man insisting on a rematch in the near-future. After coming out with a flurry of punches, Domingoes was warned for a punch to the back of the head. Soon after, Coulter took advantage after Domingoes alleged an eye poke.
Golden Glove winner Agnesa "Spitfire" Kirakosian (Armenia) went 5 rounds and was declared unanimous winner against Mariana "The Heroine" Kamara (Lebanon) in a gutty performance by both bare knuckle newcomers.
Mohammad "The Killer" Ghorabi (Lebanon), one of the most influential fighters in bringing bare knuckle to the region, came out fast and furious in his bk debut with a 37-second knockout of Ivan Wycliff Ggunga (Uganda).
Coming off pair of DQs in his previous two fights, the self-proclaimed "Most Interesting Man in Combat Sports" and Eric "Bloodaxe" Olsen (USA) fought a complete, clean and dominating fight, and handed Richie "The Viking" Leak (UK – BKB) his first defeat.
Aaron "Sinky" Sinclair (Northern Ireland) celebrated St. Patrick's Day weekend in Dubai's Irish Village with a first round TKO over Ivica Jakopic (Croatia).
"Red" Sonya Dreiling (USA) and Jessika "Dr. J" Smith (USA) made history being the first females to fight bare knuckle in the UAE and Gulf Region. After going the distance in her first three BYB bouts and coming up short each time, Dreiling left no doubt as she spoiled Smith's professional fighting debut with ref calling for the stop at the at the end of the 4th.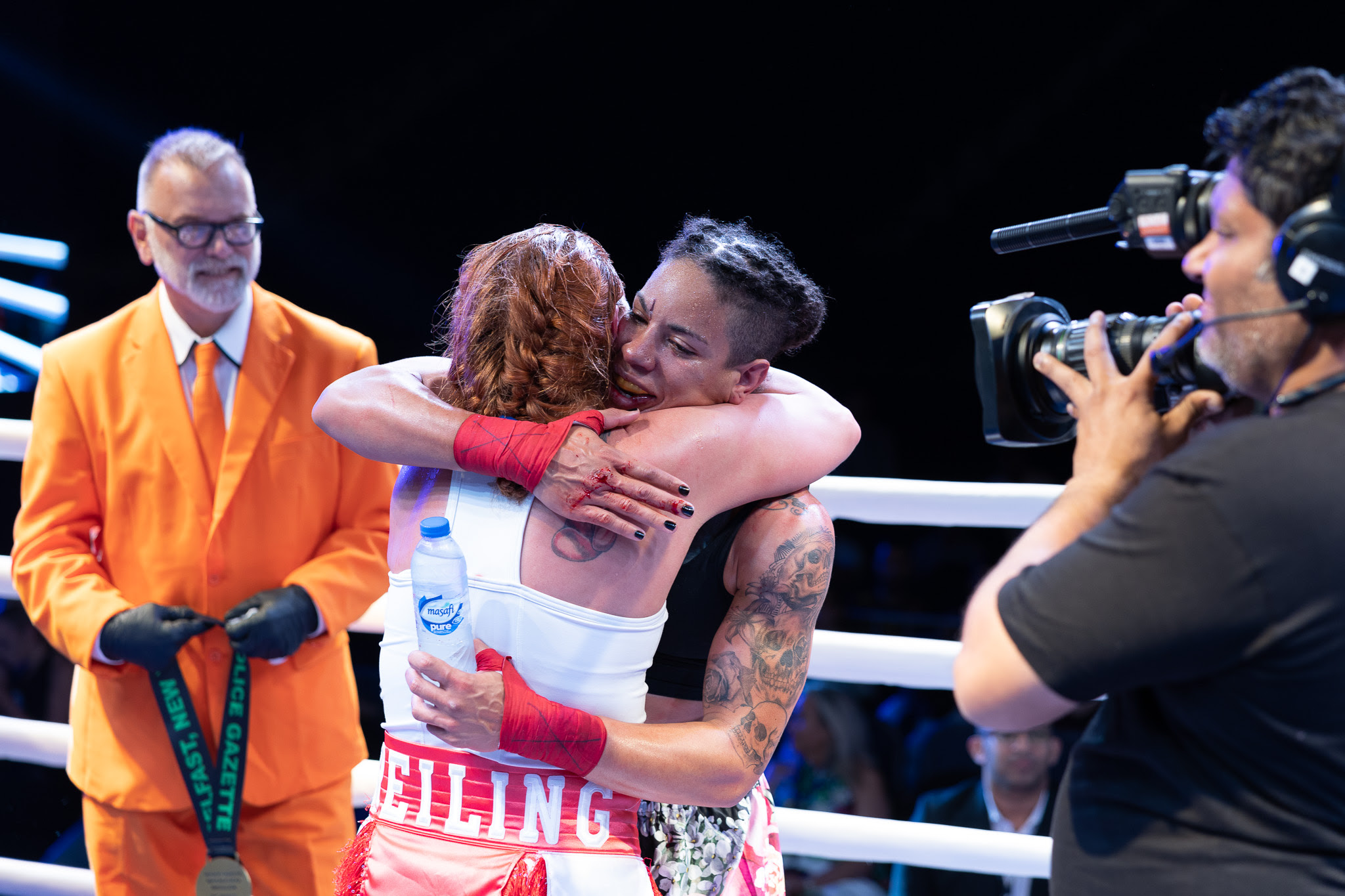 Undefeated Mark Tiffin (UK – BKB) improved to 3-0, making quick work of Hamza Hamry (Tunisia). Hamry is the first fighter that was born and raised in an Arab country signed by BYB and made history first to fight bare knuckle in the Gulf Region.
Hard-punching, nine-time Irish boxing champion Sean "Big Sexy" Turner (Ireland, BKB) made an impressive bare knuckle debut against the longtime vet Tony "Kryptonite" Lopez (USA), dominating most of the match before scoring a 5th and final round TKO.
ABOUT BYB
Originating in South Florida with backyard legend Dada 5000, whose backyard fights gained worldwide popularity online, BYB was founded to harness the excitement of bare knuckle boxing into a more structured product for a wider, more mainstream audience. Since 2015, BYB has worked diligently to grow the reach of bare knuckle boxing on both a domestic and international level, hosting events in Wyoming, Mississippi, Florida, South Carolina and London, and is continuing to work with athletic commissions throughout the United States globally to expand the fanbase growing sport of bare knuckle boxing. For more information on BYB, visit bybextreme.com and follow @bybextreme on social.
###